Our Craftsmanship
Handmade. Heartfelt
Nestled in the foothills of the Dublin Mountains lies Boru ®, home to the finest Celtic jewelry craftsmanship. We put our heart and soul into every piece we create – designing, handcrafting and hallmarking everything with our unique Boru ® style and attention to detail.
Working where we work, we can't help but be inspired by Irish landscape, culture and heritage. Our love for our surroundings and our heritage translates into every piece of jewelry we create.
We employ staff from both Ireland and Europe, all highly trained and skilled in the crafting of jewelry from all precious metals. Our stone setters are also highly trained and skilled – when you purchase a piece of Boru ® jewelry you know that that highest possible standards have been adhered to.
We also love to take inspiration from you, our customer, to create custom pieces for you. Working as a team, we have made many exclusive designs imagined by our customers and realized by our design team and craftsmen. We've even created a personal piece for none other than President Obama!
Here's a little bit about some of the customized pieces we're most proud of: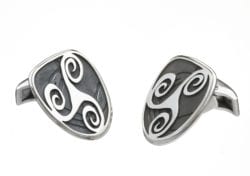 Yes We Can
Boru ® were honored to produce a lapel for President Obama's historic visit to Ireland. The design incorporates his native African American tribal graphic along with a Celtic graphic to also symbolize his Irish heritage. And of course, we couldn't forget the First Lady! We produced a beautiful pendant for the wonderful Michelle Obama in yellow gold.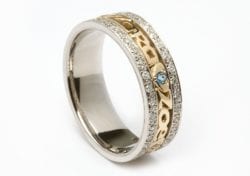 Getting Personal
This is probably the most sentimental piece ever created in Boru ®, as it was lovingly designed by Paul for his wife Lisa. Incorporating their three children's names in yellow gold on white gold, with their birthstones set into hearts, and finished with diamond set rails. Like all of our pieces, this was most definitely made with tender loving care.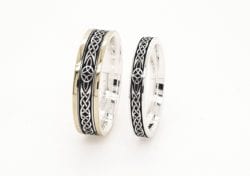 When Trinity's Come Together
In collaboration with a client in Finland who wanted to incorporate a Double Trinity Knot in matching Wedding Bands we designed and crafted the above. Client was very specific that the rings were to be narrow as possible. The narrower of the two is approx. 2.8mm wide in all 925 Sterling Silver and the wider version is approx. 4.8mm and is 925 Sterling Silver with 10kt Yellow Gold Trims inset into the ring. The design incorporates two Trinity Knots on their side with joined Lovers Knots crafted so it is continuous around the band only breaking where the Trinity Knots are. Each piece was then finished by oxidization to create the black background, which in turn, makes the design stand out more and then the rest of the band is polished.