Celtic Engagement Rings: Information & Traditions
14 June 2022 ·
9
min read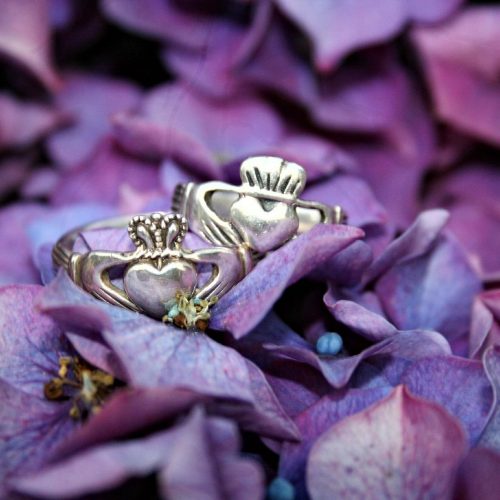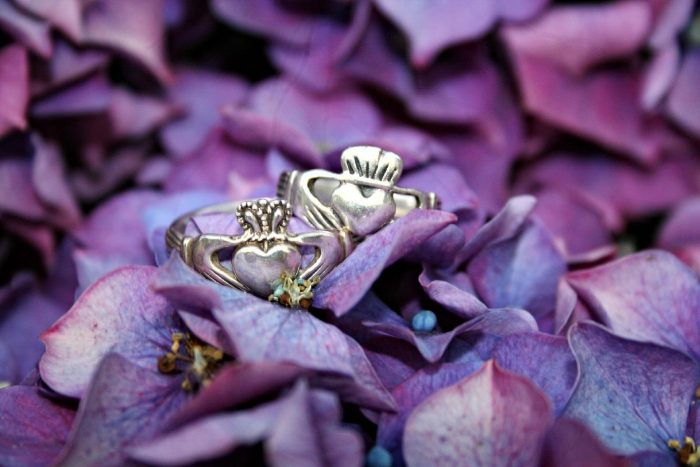 Photo by Mégane Percier from Pixabay 
Finding the ideal engagement ring for your loved one can be challenging, especially if they have Irish roots. Finding the right ring becomes even more intimidating when faced with the sheer number of choices available. But no piece of jewelry is more respectable, culturally significant, or beautiful than the Claddagh ring.
Each design is elegant, delicate, and lovely. A Celtic Claddagh ring will certainly impress your lover (or others) with its magnificent symbolism and simple yet appealing design. Some Claddagh rings also feature other traditional Celtic symbols like the trinity knot, Ogham, or gemstones like rubies and diamonds.
Claddagh Irish Symbol
The Claddagh ring, or An Fáinne Cladach in Gaelic, is a classic Irish ring. It can be worn as a cultural symbol or just to convey a devotion to the three lovely sentiments symbolized on the ring. The heart, crown, and hands each represent love, loyalty, and friendship.
Numerous people still gift the Claddagh ring as a token of affection in the 21st century because of the symbolism of these elements. It also has a romantic connotation. Depending on how the main heart stone is turned, you can wear Claddagh Celtic rings as a promise ring, wedding band, or engagement ring.
A Claddagh Love Story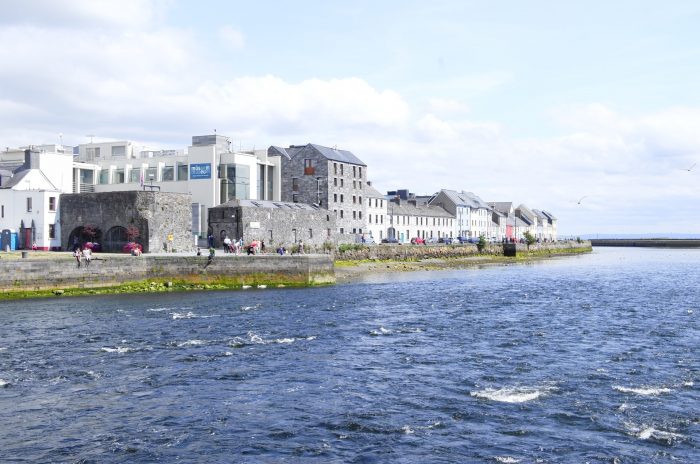 Photo by Ruby Doan on Unsplash 
Claddagh rings have been around since the 17th century. You might find it interesting to know that "Cladach" is a Gaelic word, meaning stony beach or shore. This implies the ring is named after a region in Ireland where it was created. 
The original design was born in the tiny village of Claddagh, Galway County. There are several theories about the Claddagh ring's origins, the most credible being that they came from the Joyce family. 
Richard Joyce was supposed to marry when his ship returned to Claddagh, but he was instead captured and sold into slavery. A Moorish gold dealer bought him and taught him how to be an artisan. When William II, King of England, declared an amnesty in 1689, he ordered the freedom of all enslaved people in his kingdom.
Richard, for his part, had charmed and impressed his owner enough to be promised half of the goldsmith's fortune and his daughter's hand in marriage. That's if he had opted to stay. Richard's true love, however, awaited him in Galway. Hence, he asked to be sent home so that he could be with her.
When Richard arrived in Galway, he was delighted to see his sweetheart waiting for him. Then he opened a goldsmith shop and supposedly made many more Claddagh rings bearing the initials 'R.I.'
Wearing Claddagh As A Celtic Engagement Ring
Buying a Claddagh ring or other Celtic engagement rings is a great way to show someone your affection (particularly if they have Irish ancestors!) This is your way of honoring and loving that person, as well as who they are and where they came from.
Couples have been exchanging the iconic Claddagh ring as an engagement or wedding ring for centuries. In addition, there are different ways of wearing the Claddagh ring, each suited for a specific purpose.  
Friendship: by wearing the ring anywhere on your right hand.

Engagement: Place the ring on the third finger of your left hand, with the heart pointing outwards.

Wedding: place the ring on your left hand's third finger, with the heart facing inwards towards your heart.
➽ You can learn more about wearing Irish rings the right way on our blog here. 
Now, let's have a closer look at some of Boru's unique Celtic rings with Claddagh design, especially ones that make lovely engagement rings.
Claddagh Engagement Ring and Wedding Ring Designs and Meanings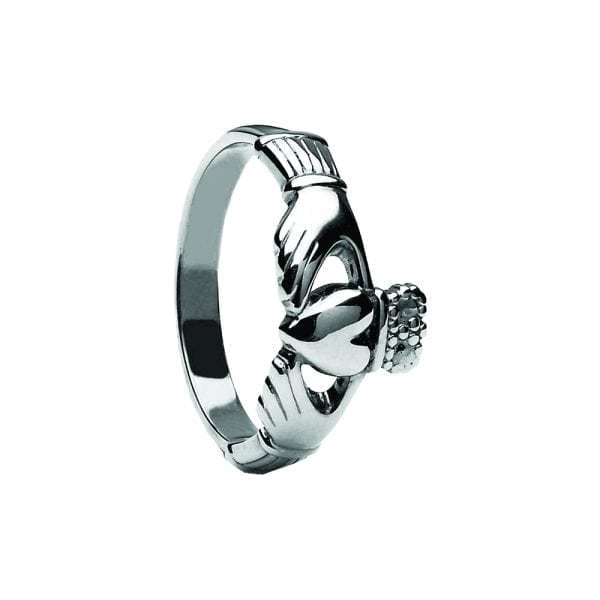 Photo by Boru
The Irish are known for their oral storytelling traditions. Stories and superstitions have naturally developed over time. However, after years of creating Claddagh rings, we've come to realize that these pieces are more than just rings to the people who wear them.
In fact, the design of the Irish Claddagh Ring has changed throughout the last two centuries. Numerous variations of the original design are worn by men and women all over the world today. The lovely Claddagh ring is worn not just for its sentimental value but also as a symbol of its unique ties to Ireland.
Each ring carries personal stories and messages unique to each person, making them valuable tokens of love and friendship. One way to personalize your Celtic engagement ring is by adding inscriptions, gift notes, and other Celtic symbols to a simple Claddagh ring.
Here below, you'll find some of Boru's Claddagh rings featuring other famous Celtic designs.
Claddagh with Celtic Knot Wedding Ring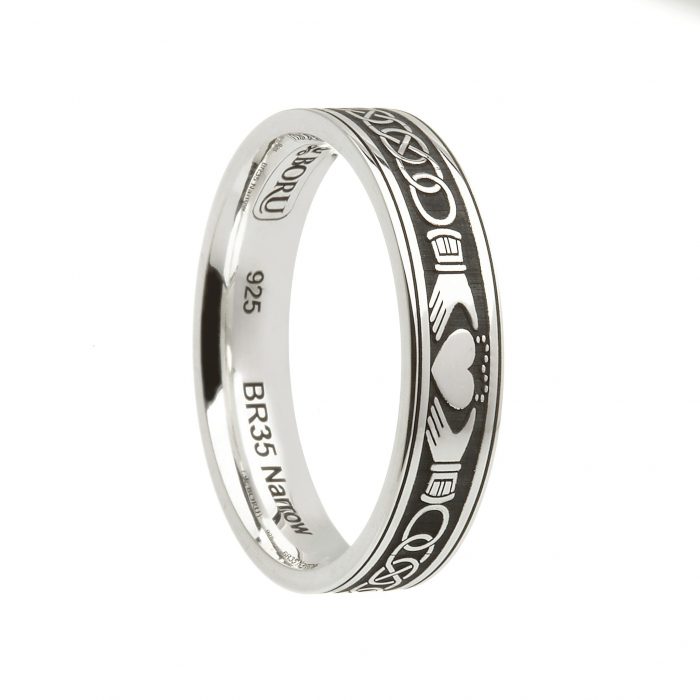 Photo by Boru
A contemporary blend of the Claddagh and the Celtic Knot appears in Boru's latest state-of-the-art Celtic wedding band line. The design of this Claddagh band is simple but elegant. This stunning ring is a contemporary take on the traditional Claddagh ring form. Anyone looking for a more modern Claddagh ring will love this band.
The ring is a unisex "comfort fit" band, meaning the inside of the band is domed for a more comfortable fit. This lovely wedding ring comes in two different bandwidths. 
➽ You can order Boru's Claddagh knot wedding ring in silver, platinum, 10k white or yellow gold, and 14k white or yellow gold. 
Comfort-Fit Diamond Claddagh Style Ogham Wedding Ring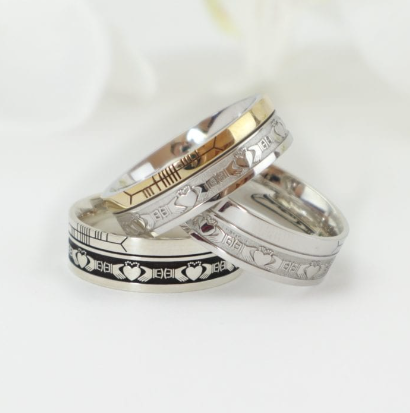 Photo by Boru
This Claddagh & Diamond ring is one of Boru's Faith Collection Engagement & Wedding Ring's top picks. The ring can be customized with Ogham text to suit your meaningful message. This magnificent ring is inscribed with the word "FAITH" in the ancient Ogham language (the Celtic Alphabet). 
If you want your own unique message translated into Ogham, you can alter the engraving as you wish. The Ogham script is an early form of old Irish, and is the oldest known type of Irish writing. The characters are made up of a succession of lines and notches carved across a long stem line, typically found on standing stones or trees.
Boru creates these pieces for you and your loved one to wear for the rest of your lives. You can choose your favorite Ogham ring look from among silver, 14k white gold, and 14k mixed gold (with white Ogham rails on yellow.)
Claddagh Engagement Ring With GemStones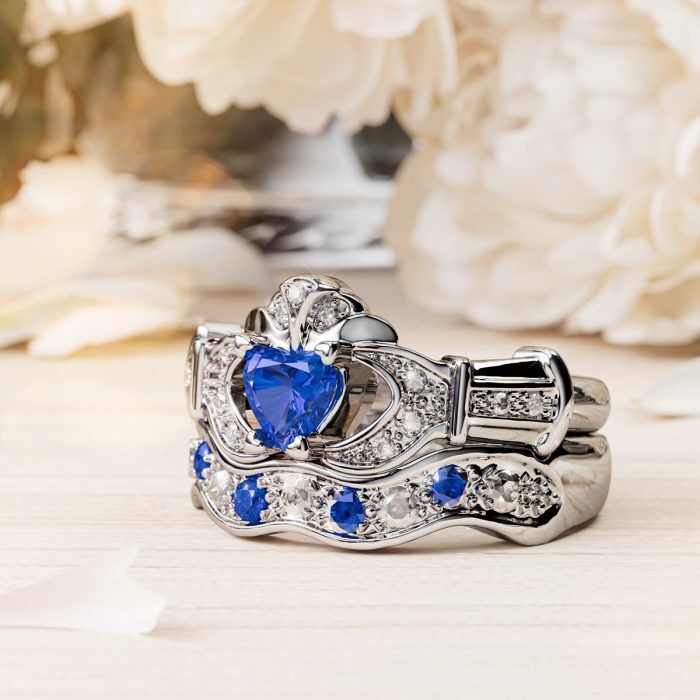 Modern Claddagh rings are frequently embellished with dazzling gemstones, as opposed to the old Claddagh rings made entirely of precious metals. Emeralds, diamonds, peridot, sapphires, and green jewels are all excellent options that pay tribute to Claddagh's Irish heritage. 
A birthstone is usually an excellent choice for the Claddagh ring if you're buying one for someone special. Giving your loved one a piece of jewelry with their birthstone incorporated into the design is a wonderful way to demonstrate how much you care about them. 
Do you not know what his or her birthstone is? Don't worry, as each of our birthstone collection jewelry pieces comes with its own tiny guide about the stones, their properties, and associated months.
Emerald, diamond, and ruby are three of the most beautiful examples of birthstone jewelry adorning a Claddagh ring.
Claddagh Birthstone Ring: Emerald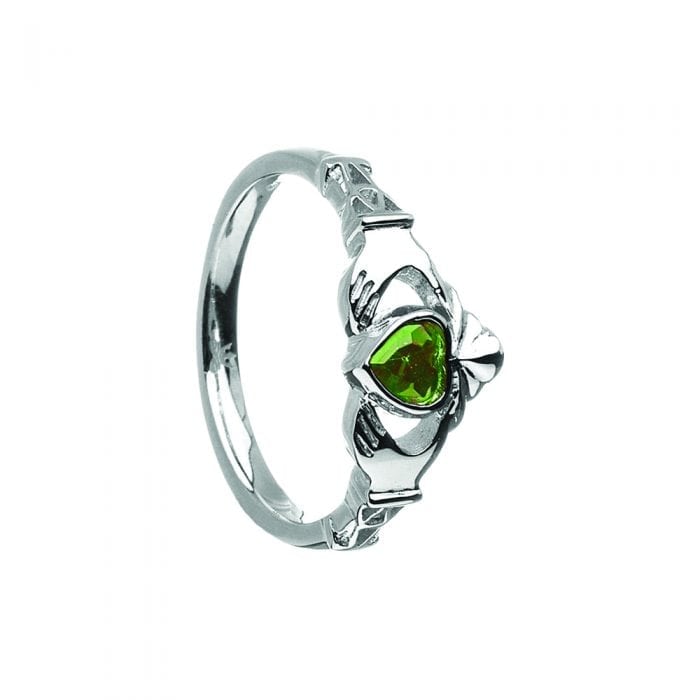 Photo by Boru
The Claddagh heart in this May Birthstone Claddagh Ring is set with a gorgeous Emerald Green Cubic Zirconia stone, the gemstone for May. The Claddagh heart represents love, while the hand represents friendship, with the crown representing fidelity.
Cubic Zirconia is a diamond-like stone known for its clarity and inventiveness. It represents truth and transparency, and it reflects everything around it. Any other gemstone pales in comparison to the color of the Emerald. 
The Emerald was the stone of prophecy, beloved by Cleopatra, and the sacred stone of Venus, the Greek goddess of love. It is a stone symbolizing kindness, love, and healing.
Claddagh Birthstone Ring: Ruby
Photo by Boru
The Claddagh heart inside this July Birthstone Claddagh Ring is adorned with a lovely Ruby stone, which is the birthstone for July. The Claddagh heart represents love, while the hand represents friendship, with the crown representing fidelity.
The Ruby stone, known for its deep red hue, is a seductive stone of royalty. It's claimed to encourage bravery, success, heightened perception, and focus. Of course, it's also known as the "stone of passion," and the Chinese Emperor Kublai Khan coveted it. Ruby is the king of gems, and it symbolizes love, health, and knowledge. 
In ancient times, people believed that wearing red Ruby brought good luck to the wearer. If your beloved was born in July, this Claddagh ring would look amazing on them during your engagement ceremony. You can order this beautiful ring in silver, or in 10k white & yellow gold.
➽ Our birthstone collection is perfect for couples who want to give each other meaningful gifts with Irish roots. Check it out, and you're sure to find a piece of birthstone jewelry to your liking.
Diamond & Heart Claddagh Ring (Gold)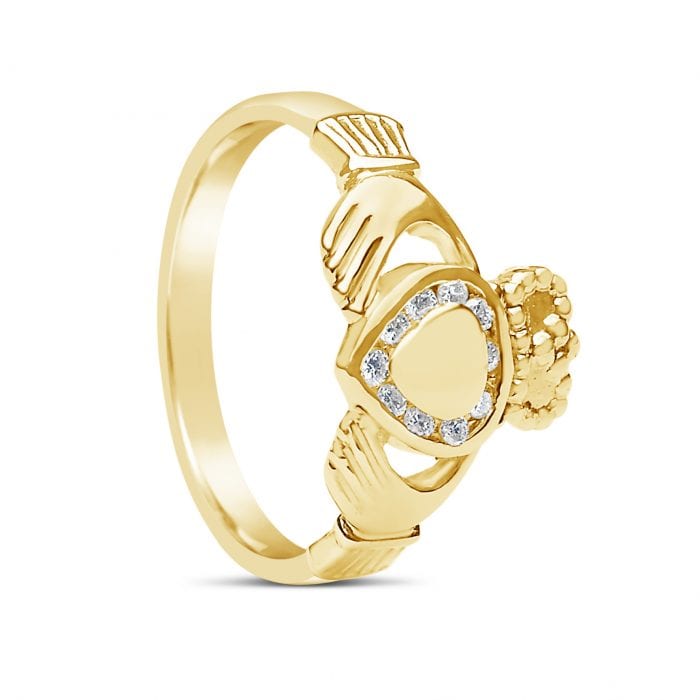 Photo by Boru
This Claddagh Ring with Diamonds and Heart features a traditional Claddagh emblem with ten tiny brilliant diamonds encircling the heart.
Diamonds are a girl's best friend, or as the saying goes: "diamonds are forever," signifying a profound, everlasting love. The Claddagh is, similarly, a symbol of love, friendship, and loyalty. All of these elements come together to create the ideal Claddagh Ring for a loved one.
This Claddagh Ring with diamonds and hearts is the ideal gift for a special occasion like an engagement or a wedding ceremony. It's handcrafted in our Dublin facility and tested in Dublin Castle before reaching your doorsteps. 
➽ You can order this majestic golden ring in 10&14k white & yellow gold. If you find this ring interesting, take a closer look at its delicate design here.
Best Metal For Celtic Engagement Rings
According to legend, the first Claddagh ring was crafted from yellow gold. However, Claddagh rings don't have to be entirely traditional, or gold.
Modern fine jewelry designers are experimenting with other precious metals and even adding gemstones to the ring to make it more beautiful.
Silver and platinum rings are always elegant and sure to embolden your look, although they may be less common in the form of engagement or wedding rings. 
➽ Consider white gold, rose gold, or black gold for a bold style if you like to stray from tradition and wear something a little different. Choose your favorite celtic engagement ring from our vast and beautiful collection. 
Celtic Engagement Rings For Him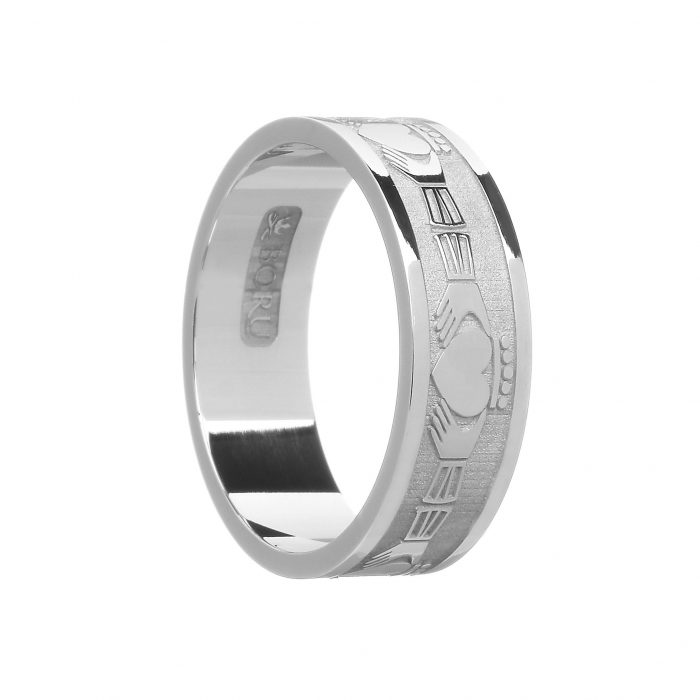 Photo by Boru
Claddagh rings are suitable for all ages and genders. However, those made for men are often heavier, have larger bands, and are more square-cut than those made for women. The Ogham soulmate ring is a perfect example of what Celtic rings for gents usually look like.
Custom Ogham Soulmate Two-Tone Wedding Ring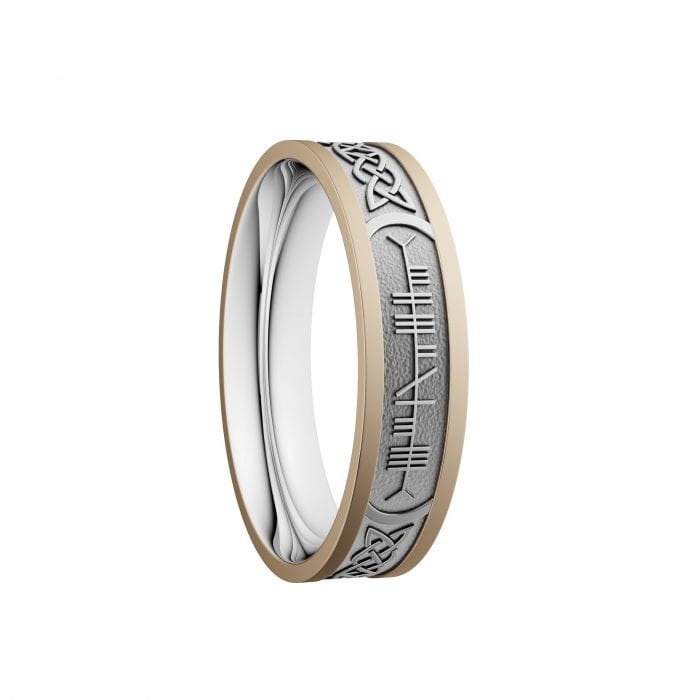 Photo by Boru
Two-tone wedding rings are of exceptional quality. The rails were designed with an attractive finish and a comfortable fit profile in mind. The ring reads "soulmate" in the Ogham alphabet, Ireland's oldest writing system. 
A long stem is used to create the characters, which are made up of a succession of lines and notches. Moreover, you can customize this ring and change the Ogham engraving to your liking. 
According to Celtic beliefs, two souls begin to join each other when you connect with that other person and become entirely open and comfortable with them.
➽ When you create such a strong link, it's said you've found your Anam Cara, or "soulmate." If you find this sentiment as lovely as we do, then the Custom Ogham Soulmate Rings are the ideal choice for you.
Final Thoughts
The multiple meanings of a Claddagh ring make them perfect pieces of jewelry you can wear and gift for various occasions, including weddings and engagements. You might also want to add your own personal touch, like an engraving. 
While these rings pay homage to Irish traditions, their elegant and timeless design makes them quite popular in today's world as well. We hope this Boru blog helped you find some of the most beautiful and suitable Celtic engagement rings from among Boru's best.