Top 10 diamond shapes and how are they different
18 January 2022 ·
7
min read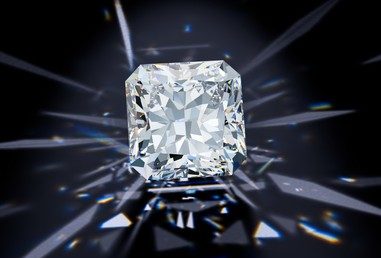 The holiday season is upon us, and what would make a greater gift for a loved one or even yourself, then a fine piece of jewelry? This would be a safe and wise solution, no matter the occasion: birthdays, anniversaries, weddings and so on. But when the range of choice is so wide, anyone could use a little help. When one gets a better understanding of fine details like diamond shapes and the differences between them, it really eases the whole process.
Top 10 diamond shapes and how are they different
Round Brilliant Cut Diamond Shape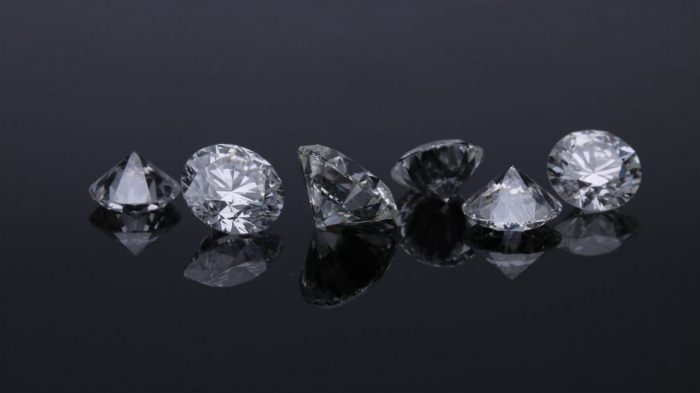 Photo by Edgar Soto on Unsplash
The Round Brilliant Cut is considered to be the most popular diamond shape- and it represents at least two-thirds of the total diamonds sold, around 70%. Their huge increase in popularity at the beginning of the 20th century is due to their shape in itself. A round cut is the most dazzling way to cut a diamond, offering exceptional white light reflection. Another important aspect and reason for their popularity is their versatility. 
The most important aspect of a Round Brilliant shaped diamond is the quality of the cut. To guarantee maximum brilliance-, or that perfect light reflection, it has to be an excellent or ideal cut. 
At Boru Jewelry, you have a variety of excellent cut round diamonds to choose from. You can find rings with one beautiful round diamond, or with multiple ones, like the 7 Diamond Cluster or the Celtic Infinity engagement rings.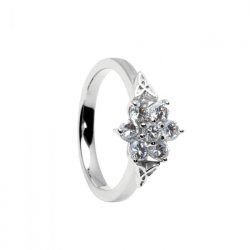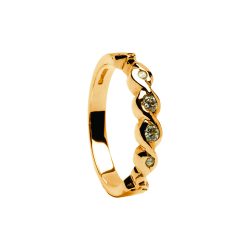 14k Gold Ring Cluster Diamond and 14K Gold Ring Diamond Set Celtic Infinity on Boru Jewelry
Emerald Cut Diamond Shape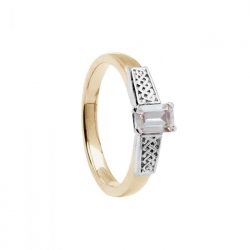 14K Gold Ring Lovers Knot Emerald Cut on Boru Jewelry
Boru Jewelry offers a special and distinctive range of such diamonds, and this particular one has a very special meaning, bringing a touch of refinement to your special piece.
Emerald Cut Diamonds always catch the eye and easily stand out because of their "step-cut" facets that create a unique visual effect, a geometric "hall of mirrors" one. Having an elegant and sophisticated look, this specific cut offers both enchanting light reflection and intense clarity. To add stability and prevent fractures, the corners of an Emerald Cut Diamond are usually cropped. 
An Emerald Cut diamond usually appears bigger than other shaped diamonds in the same carat weight. 
The elegance of this particular cut makes it an ideal gift for any occasion, ranging from anniversaries and holidays to engagements. 
? If you are particularly fond of this cut, take a peek at Emerald Cut Gemstone Rings from Boru Jewelry
Cushion Cut Diamond Shape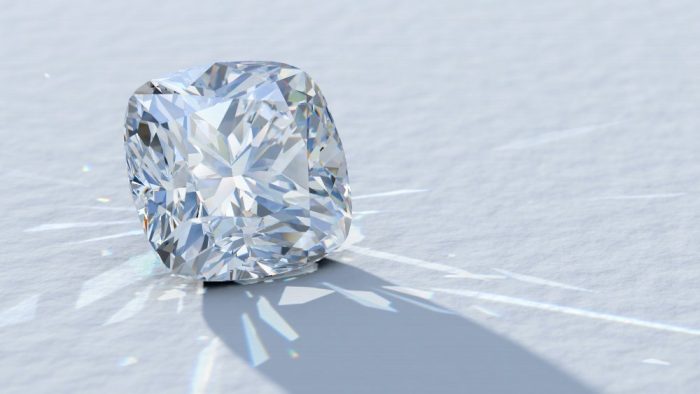 Photo by DiamondGalaxy on ShutterStock
The faceting pattern of the contemporary Cushion Cut is based on an older diamond cut known as the Old Mine Cut. This cut was made in the 1700s in Brazil, where much of the world's diamond mining was taking place after the original supply of diamonds, India, had run dry. The old mine cut was chosen by Brazilian stonecutters because it increased carat retention. The Cushion Cut combines a square cut with rounded corners, much like a pillow, hence the name.
Oval Cut Diamond Shape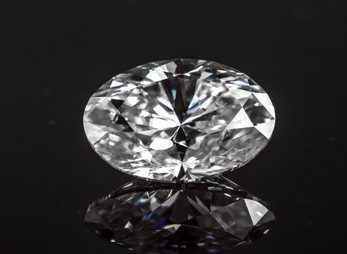 Photo by pOnGz on Shutterstock 
Oval Cut Diamonds resemble a Round Brilliant cut one by a few aspects, being just a more elongated shape and possessing the same brilliance. With a quality cut, they can actually look larger than a round one, and much more flattering, as it compliments all hand shapes and sizes and could make one's finger appear thinner. 
This shape dates back to the mid- 1900-s and it has already proven to be a very popular choice all over the world. 
Heart Cut Diamond Shape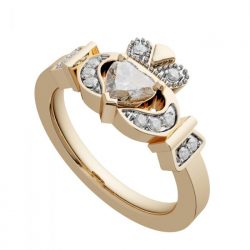 Diamond Heart Claddagh Ring on Boru Jewelry
Inherently symbolizing love and romance, a Heart Cut Diamond naturally creates sentimental and meaningful pieces of jewelry, therefore being the most popular choice for engagement rings. 
The Claddagh rings are a magnificent piece of Irish history.- The design of this ring remained the same throughout history: the crown symbolizes loyalty, the hands symbolize friendship, and, naturally, the heart illustrates love. As Boru Jewelry is an Irish family-run business, and all pieces are beautifully hand-made, it is only natural that the Claddagh rings represent a big part of their astonishing range. 
The Claddagh Ring with the Heart Cut Diamond has an amazing history, being primarily used as promise, engagement, or wedding rings.
?Browse to the finest selection of Claddagh Rings, hand-made with care and craftsmanship by Boru Jewelry, where you can also filter them by occasion, metal type, or gender. 
Radiant Cut Diamond Shape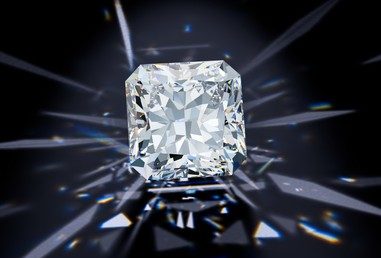 Photo by DiamondGalaxy on Shutterstock
This type of cut has the outline of emerald cut diamonds but shows far more brilliance. They lengthen the finger and come at a big discount compared to round diamonds, making them great options for engagement rings. Radiant Cut Diamonds are among the most gleaming on the market. This diamond cut, which was invented in 1977, is the most modern diamond form. However, it might still appear to be a classic. A radiant cut diamond, whether elongated or square-shaped, will stand out from the crowd, giving your engagement ring a one-of-a-kind appearance.
Marquise Cut Diamond Shape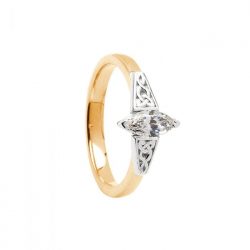 14K Gold Ring 0.50cts Trinity Marquise on Boru Jewelry
Boru Jewelry is more than a brand. It is a legacy. Once you purchase a little piece of history from our collection, you also become a part of a great heritage. With this particular ring, a Marquise Cut Diamond is gracefully intertwined with the symbolic Trinity Knot.  
Customarily, this type of cut has been used for regular-wear rings, – not so much for engagement ones, but this changed as time went by. 
The Marquise Cut gained popularity due to its uniqueness, along with the flattering aspect, making one's finger appear longer and thinner.
?Have a glance at the Boru Jewelry 14k Gold Marquise Diamond Rings Collection
Princess Cut Diamond Shape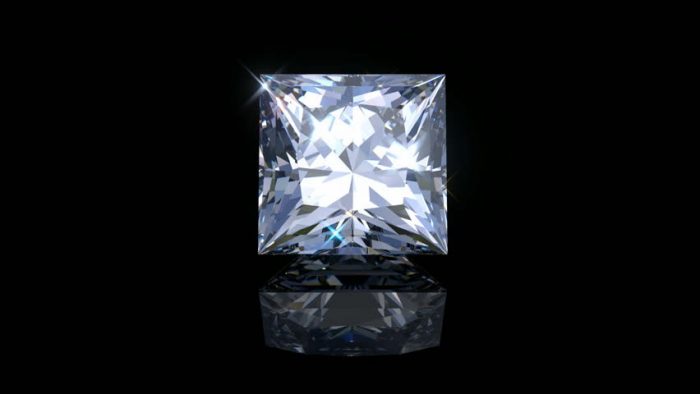 Photo by DiamondGalaxy on Shutterstock
A Princess Cut diamond is a typical square diamond with a lot of fire and brightness, and its name dates back to the 1960s. The inverted pyramid of the raw diamond stone is used to create this beautiful form of diamond. Princess Cuts are among the most dazzling of all diamond cuts and are preferred for engagement rings.
In today's market, the Princess Cut is often recognized as the runner-up to the Round Brilliant. According to statistics obtained after a few conducted surveys, Princess Cuts account for a massive 23% of all searches on popular sites.
That is still a far cry from the 64 percent for Round Brilliants, but keep in mind that the Emerald Cut came in third with only 3 percent of searches. The Princess Cut is firmly in second position.
Pear Cut Diamond Shape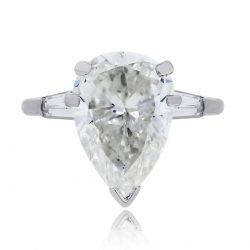 Photo by JewelStudio on Shutterstock
The Pear Cut Diamond is still gaining popularity today, regardless of its creation that dates back to the 1400s. Lodewyk van Berquem, diamond cutter, came up with a diamond-polishing wheel that enabled every facet of the diamond to be polished–a turning point in which all pear-shaped diamonds going forward had the opportunity to exhibit superb light reflection and sparkle. The pear diamond, also known as the teardrop or pendeloque cut, is unlike any other. It is one that gracefully merges the Marquise and oval shapes, with one rounded end and the other pointed. Its unique silhouette is instantly recognizable and well-liked.
Asscher Cut Diamond Shape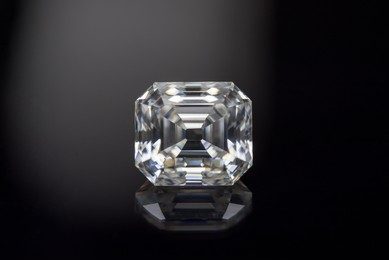 Photo by Levon Avagyan on Shutterstock
An Asscher Cut diamond is an octagonal diamond with stacked facets and a square form. The Asscher Cut has a deep pavilion and a high crown, providing brightness as well as its characteristic charm. Asscher Cuts are classified into two categories: Ordinary and Royal. The Royal Asscher business designed both of them. 
Key Differences between Diamond Cuts
Aside from the obvious difference in shape, these special, well-known cuts are distinct in terms of brilliance, fragility, quality of the cut, colors and hues, and also history and meaning. 
To choose the most suitable option for your needs, you must read into your personal priorities as they all have both perks and downsides. For example, the Round Brilliant Cut is the most exquisite and classy cut, the disadvantage usually being the price. 
As far as the Pear, Cushion and Marquise Cuts go, their extremities are prone to chipping or blemishing if not protected properly. 
Boru – A Legacy
Boru handles everything as a family enterprise, therefore always bearing families in mind. Recognizing the unique position that jewelry occupies in the hearts of families all around the world, Boru is dedicated to making astonishing pieces that will be cherished for a lifetime.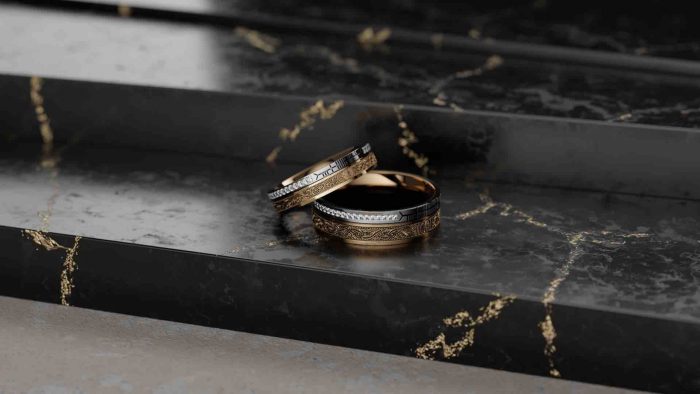 An item with such an abundant history behind it, like each and every one of the pieces at Boru Jewelry, would make a great addition to one's life. 
It could become a family inheritance in your family, something to be passed with love and care through generations. The range of pieces is not limited to rings and diamonds, so you would have plenty of choices to make, according to your budget, preference, style or occasion.
After all, when choosing a diamond or a piece of jewelry, you are also choosing the beginning of a new history, you are forming a new legacy. You may be using an engagement ring to start a new family, you could choose one to celebrate the one you have so far, or for passing on your little piece of history.  
Sources: 
https://www.diamonds.pro/education/round-cut/
https://www.diamonds.pro/education/emerald-cut/
https://www.lumeradiamonds.com/diamond-education/cushion-cut-diamond
https://www.withclarity.com/education/diamond-education/diamond-shape/oval-cut
https://yourdiamondguru.com/cut/heart/
https://www.gemsociety.org/article/radiant-cut-diamonds/
https://www.diamonds.pro/education/princess-cut/
https://taylorandhart.com/us/diamond-guidance/diamond-shapes/pear