How to Choose the Best Wedding Ring
27 December 2021 ·
7
min read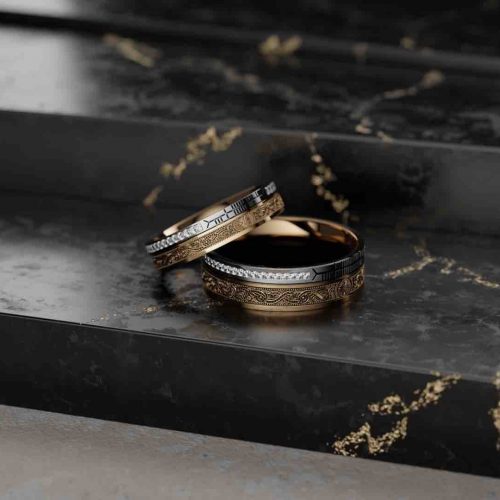 How To Choose the Best Wedding Ring
Engagement and wedding rings are a symbol of commitment and true love. Rings are usually worn to symbolize love, devotion, loyalty, and faithfulness. But, there's so much fuss about engagement rings that wedding rings don't often seem to get the attention they deserve. The reason wedding rings are so important is simple: you'll probably be wearing your wedding ring every day for the rest of your life!
An engagement ring or a wedding ring represents your most significant commitment and serves as an everlasting visible emblem of your marriage. Since your ring is unique, you need to make an effort for it to be one of a kind, perfect and exclusive.
Wedding ring shopping can be a bewildering experience, especially if you've never done it before. It's not like buying an engagement ring since this time you're shopping for both of you. That's why we have put together a guide to help you with useful tips, from how you can choose the best wedding ring to its care and maintenance.

How to choose a wedding ring 
Wedding rings are frequently seen as sacred and valuable jewelry items. The tradition of wearing wedding bands dates back to ancient times and can be found in pretty much every culture. In most nations, couples choose their wedding rings together, so there is no surprise involved.
Furthermore, both wedding and engagement bands are probably the most important pieces of jewelry you and your partner will ever purchase together. In addition to symbolizing your love, it displays your style, personality, and ideals. It's easy to see why choosing the best wedding band is so important and often so confusing.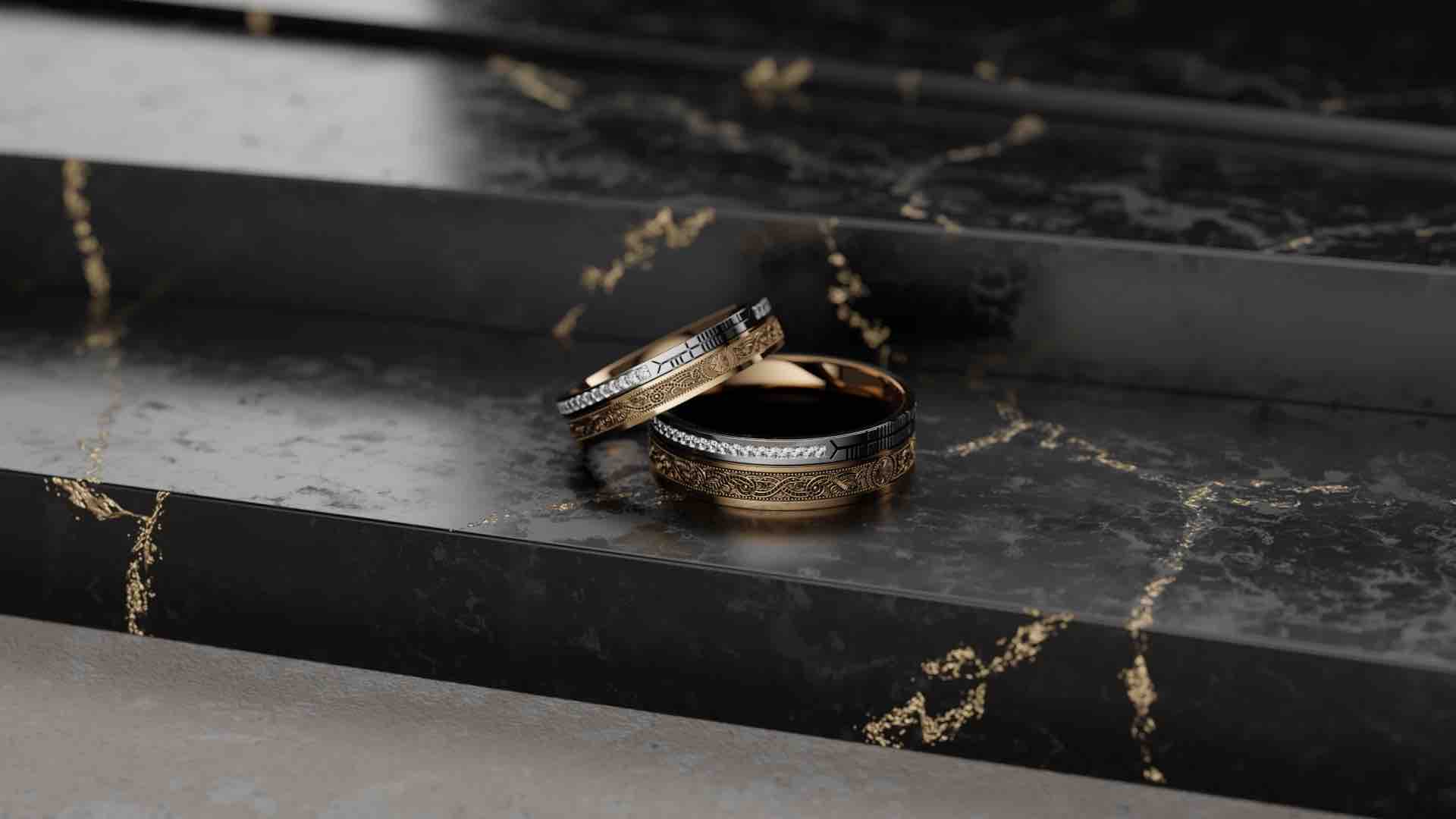 Style
Traditional: A traditional solitaire setting is ageless and allows the single diamond to stand out without being overshadowed. The most popular engagement ring style is solitaires, rings with only one central gem. A plain metal ring is used in the most classic solitaire. Consider a trellis or basket setting to add a touch of sophistication or to guarantee the central diamond is set low.
Modern: Do you have a significant other who appreciates a fashionable, up-to-date look? Consider sculptural rings, which play with unconventional shapes. Try a bezel ring, a thin metal band that encircles the diamond from girdle to girdle. Think about a wide band ring with stunning intricacy if she doesn't want a classic center diamond. 
Celtic Wedding Ring: A Celtic wedding ring could be the right choice if you're looking for something original, meaningful, and gorgeous. These ancient Irish rings have complex features and are always sure to stand out. They also have historical and cultural values on top of being romantic. A Celtic wedding ring's design is inspired by ancient Celtic motifs with symbolic meanings. They're available in various styles, the most popular of which are the Claddagh and Ogham.
Budget
Fixing a budget from the outset can help you choose the best ring and avoid getting sidetracked while shopping. It's generally advised that you set aside 3-5% of your total wedding budget on the rings. If you go into a jewelry store without a budget in mind, you may fall in love with something that's far beyond your means. When negotiating with your jeweler or browsing online, be open and honest about what you're looking for.
Designer rings and big brand names can add a significant markup to the entire price of the ring. Remember that a wedding ring is a timeless piece of jewelry that will look the same whether you buy it from a big-name retailer or a local jeweler. There will, however, be a significant price difference!
You can find the ideal wedding band on a budget as well. Also, don't assume that you can't have a customized choice since you're on a budget. It's a common misunderstanding that designing your own wedding band from scratch is always more expensive. So, don't be afraid to approach a jeweler or designer and ask if they can create your dream wedding set for you.

Shape
One of the most important factors to consider when buying a wedding ring is the ring's profile. The two alternative styles range from a classier sleek flat look to a softer-edged band with a more toned-down appeal. Personal preference, as always, plays a role in this.
D-Shaped Ring: As the name suggests, a D-shaped ring has a cross-section resembling a D. This is because it has a curved outer and a flattened inner part.
Court-Shaped Rings: They are known for their comfort, primarily because they're gently rounded on both the outside and inside. In the wedding band industry, the court-shaped ring is the most famous and classic option. Because it's rounded on both the inside and outside, it'll fit snugly around your finger and provide the highest level of comfort.
Flat Court Shaped: A flat court ring has a flat outer and a curved inner. The goal is to provide the ring with a comfortable feel while also matching the occasionally smooth surface of many diamond engagement rings.
Flat Shaped: The term "flat-shaped rings" are ones flat on both the outside and inside. Many engagement diamond rings have a profile that complements this as well.
Carat – If Buying a Diamond Engagement Ring
The average diamond carat varies greatly depending on geography and demographics. Because each diamond also displays its carat weight differently, the shape is an important consideration. Some people like the classic beauty of a brilliant round diamond, while others prefer the hall of mirrors aspect of a step-cut diamond, like an emerald cut. Ultimately, it's for you and your partner to decide the best shape and size while also considering your budget.
Material
Gold has traditionally been the most popular metal for wedding bands. It's advisable for the bride and groom to choose the same gem for a harmonized appearance. While the styles can be different, the two rings featuring the same jewel create a subtle, yet lovely connection.
However, some brides and grooms pick various precious metals to suit their preferences. Rose gold, for example, is a feminine color ideal for a bride, while the groom may want something stronger and more masculine. Most brides like to match their engagement ring with their wedding ring. The most popular metals for wedding and engagement rings are:
Get Properly Measured 
This may seem obvious, but make sure you measure both your ring fingers correctly. You don't want a ring that's cutting off your circulation or, even worse, one that's loose enough to slip off. It should be tight, yet not oppressive. You can get sized at a jewelry store, or you can do it on your own for both yourself and your partner.

Tips & tricks for Picking a Wedding Ring
You need to consider a series of parameters for choosing a wedding ring correctly, including: 
Shop Early
Many couples make the mistake of getting their wedding rings too late. They don't account for production time and may even end up having to postpone the party until their rings are completed.
It takes three to four weeks for your rings to be sized and ready. Allow considerably more time if you're having them custom designed. Certain styles may take a little longer, and jewelers may need 3-6 weeks to tailor design your wedding bling.
Shop Together
Because you'll both be wearing wedding rings, it'll be a lot of fun to do this wedding planning task together. To enjoy the process and ensure ending up with something you adore, both the bride and the groom should be involved. Moreover, it's also a beautiful and romantic activity that couples should engage in as part of their relationship's journey. Shopping with a friend can also help pick out your favorite ring style.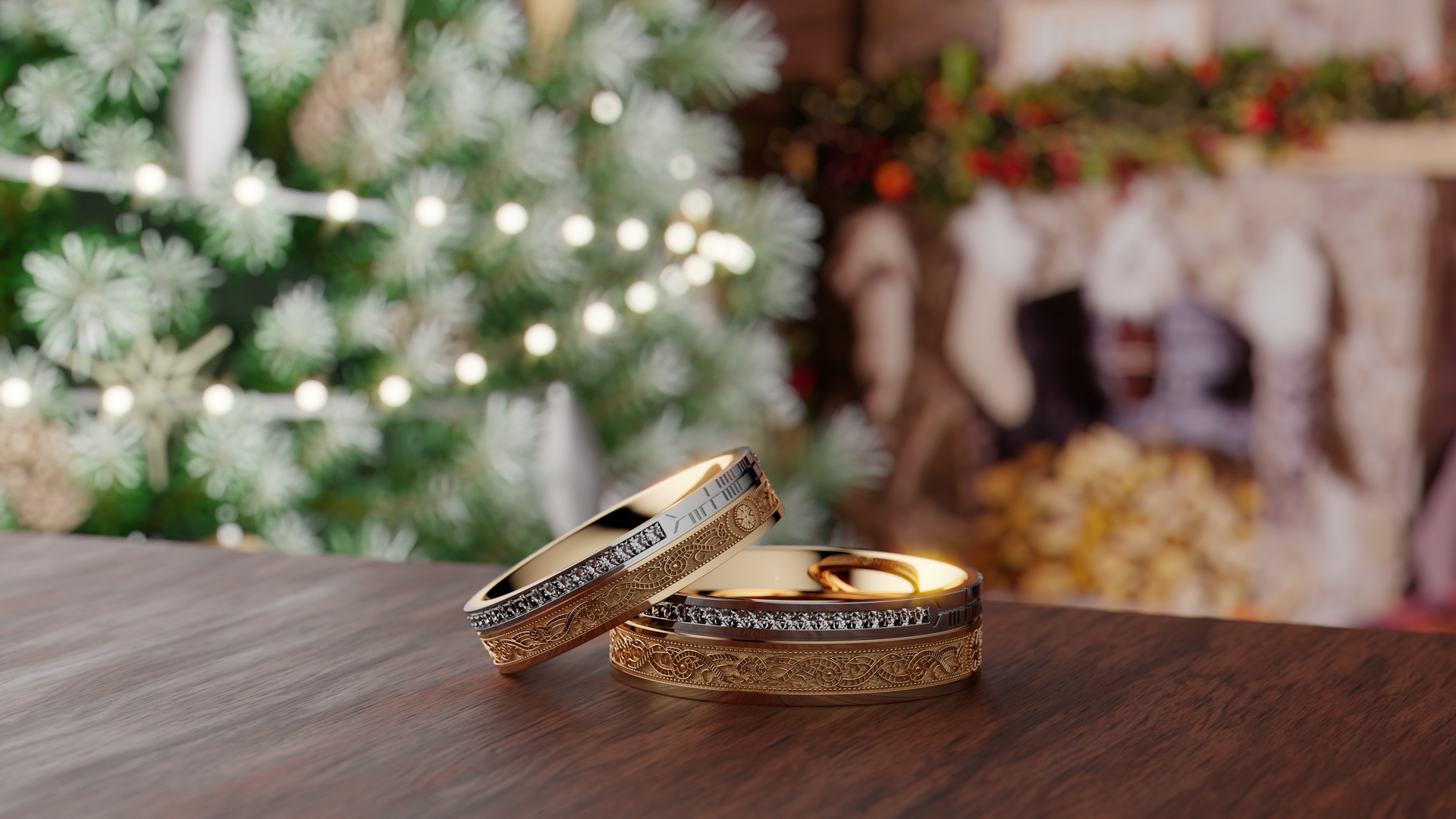 Matching Rings: Yes or No?
A connection between the two rings is always a wonderful touch, whether you want to get similar-looking rings or not. In fact, you don't even need to purchase wedding rings that look alike to have this connection. Even if the outer design of the rings doesn't match, a heartfelt engraving could be a personal touch between the two of you.
However, if you want to get a complete matching set, you have a lot of options. Most jewelry stores sell bridal sets, which include matching wedding and engagement rings. You might also be interested in a trio set, inclusive of the groom's ring.
Certified Rings
An engagement ring is one of life's most expensive investments, so take your time and shop wisely. Make sure you get a certified jewel from an accredited laboratory, such as the American Gem Society or the Gemological Institute of America, when you finally find the ring of your dreams.
Wedding Ring Care & Maintenance 
It should go without saying your sparkler is a valuable piece of jewelry. Following your significant other's proposal, proper care of your ring should always be your top priority. Some of our tips include:
Keep your ring clean

Don't use harsh chemicals on your ring

Don't subject your ring to excessive wear and tear

Take off your ring during hands-on activities

Keep a couple of ring dishes available around the house
Finally, remember that your wedding ring should be a lifetime investment; these pieces of jewelry are a constant reminder of your love. While trends come and go, buy a ring that you will cherish for decades!
Sources:
https://www.theknot.com/content/rules-for-choosing-your-wedding-bands
https://www.jewelryshoppingguide.com/how-to-pick-a-wedding-ring/
https://www.brides.com/story/ring-shopping-before-the-proposal
https://www.elmajewellery.co.uk/buyers-guides/ring-shapes.php
https://www.brides.com/gallery/dos-and-donts-of-taking-care-of-your-engagement-ring
https://www.fascinatingdiamonds.com/shop-online/ring-styles/traditional-engagement-rings
https://www.irishshop.com/irish-jewelry/wedding-rings/celtic-wedding-bands.html
https://www.brides.com/celtic-engagement-rings-5185659