Guide to Choosing your Engagement and Wedding Band
03 June 2020 ·
4
min read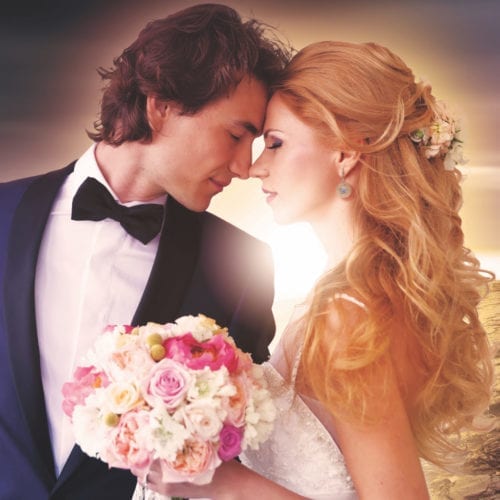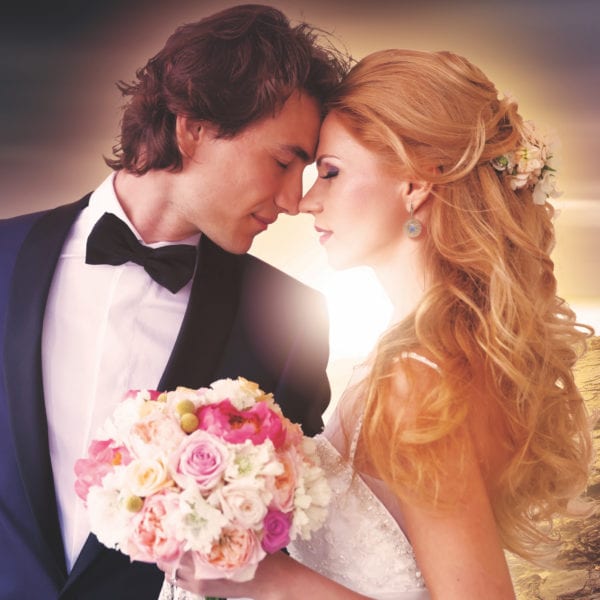 Engagement and wedding rings are a symbol of commitment and true love. Rings are usually worn to indicate love, devotion, loyalty and support a couple shares. Whether you choose a modern or a traditional ring, it represent the love you share with your significant other.

Since your engagement or wedding ring is unique, you need to make an effort for it to be one of a kind, perfect and exclusive. We have put together a guide to help you with some tips while buying the perfect ring for your partner.
Ring Size – Picking out the perfect ring can be a tedious, time consuming task. After spending money and time you do not want to end up with a ring of the wrong size. We have a ring size guide & converter to help you choose the right size for your beautiful ring. However we would always recommend for best results to visit a local reputable jeweller to have your finger professionally measured.
Metal Colour & Style – Choosing the metal colour is an important factor while choosing wedding or engagement rings. Keeping your partner's style in mind, you can choose from a variety of different metals – yellow gold, silver, rose gold. If your partner is drawn towards cooler tones, silver metal will be a good choice. For warmer hues, yellow gold and rose gold will suit better. You can also mix and match the metals for the perfect style best suited for your partner. Our bridal wedding rings collection has a variety of beautiful rings with mixed metal coatings of different designs and style.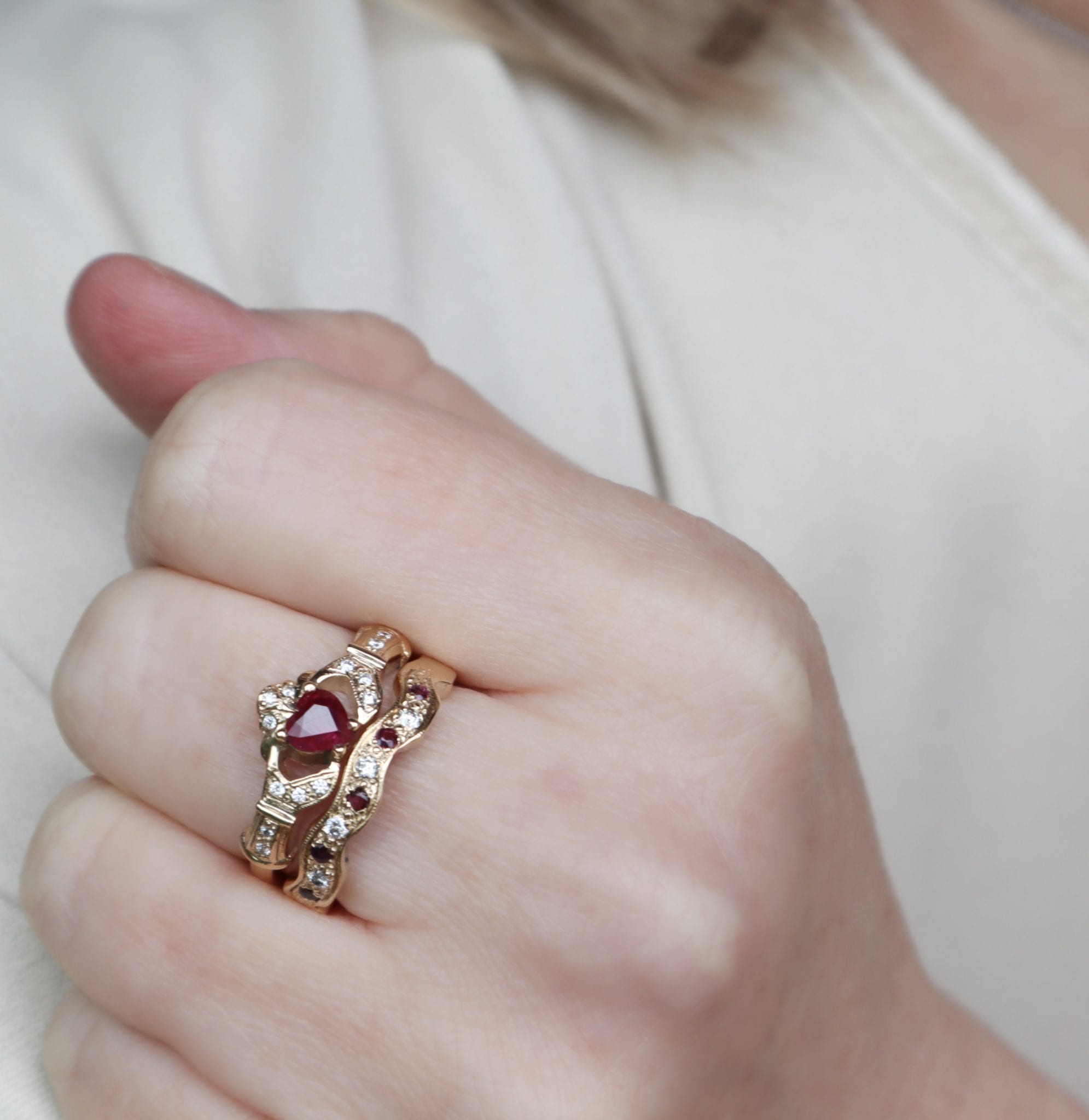 Any warmer or cooler toned metal ring can give out a sparkling effect with gemstones studded on them.
Remember it is best to keep the same metal type for both your Engagement and Wedding Band (18kt with 18kt, 14kt with 14kt and so on). The most popular metal types for a Wedding and Engagement Ring would be 18kt or Platinum. Although we do not advertise 18kt or Platinum prices we also craft in these metals. Please contact us at customerservice@borujewelry.com for more information.
Celtic Symbols – Irish Celtic rings are symbolic. There are few classic Celtic symbols that represent a sacred bond and love between couples:
Claddagh Ring – The Claddagh has an instantly recognizable design, comprised of two hands, a heart and a crown. The hands symbolize friendship, the heart represents love, while the crown signifies loyalty. Claddagh rings are truly special to this very day, used as another way of expressing your innermost feelings.As the first Irish Jewelry Manufacturer to use the Claddagh symbol on a Wedding Band we know how special this particular symbol is and have many variations of Claddagh Wedding Bands on our website.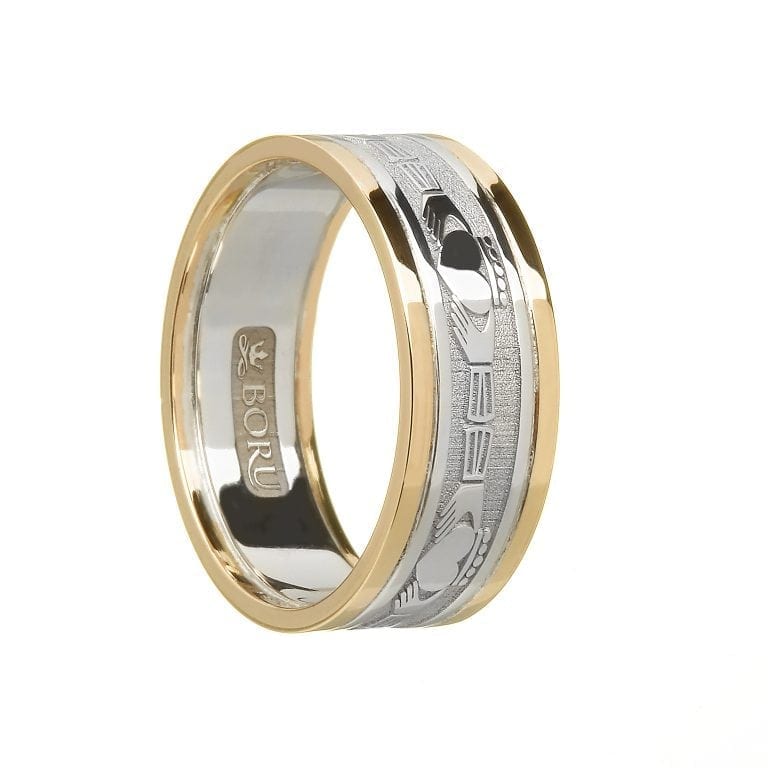 Tree of Life – This very knot was also used to adorn Celtic shields, creating a Celtic Shield Knot. It shows the interconnection of life between heaven and earth. The Tree of Life has become a hugely popular choice and we have a couple of different styles for you to peruse.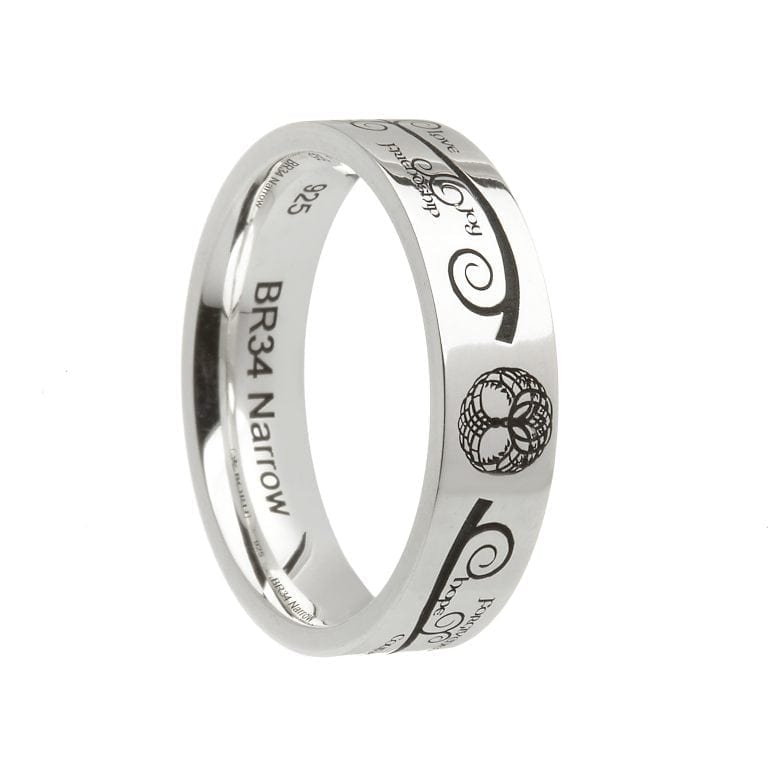 Trinity Knot – The Trinity Knot represents the belief in the number three and the intertwining continuity of all things. It is the most well-known of all Celtic knots, gifted in modern times as a token of promise; to love, honor and to protect.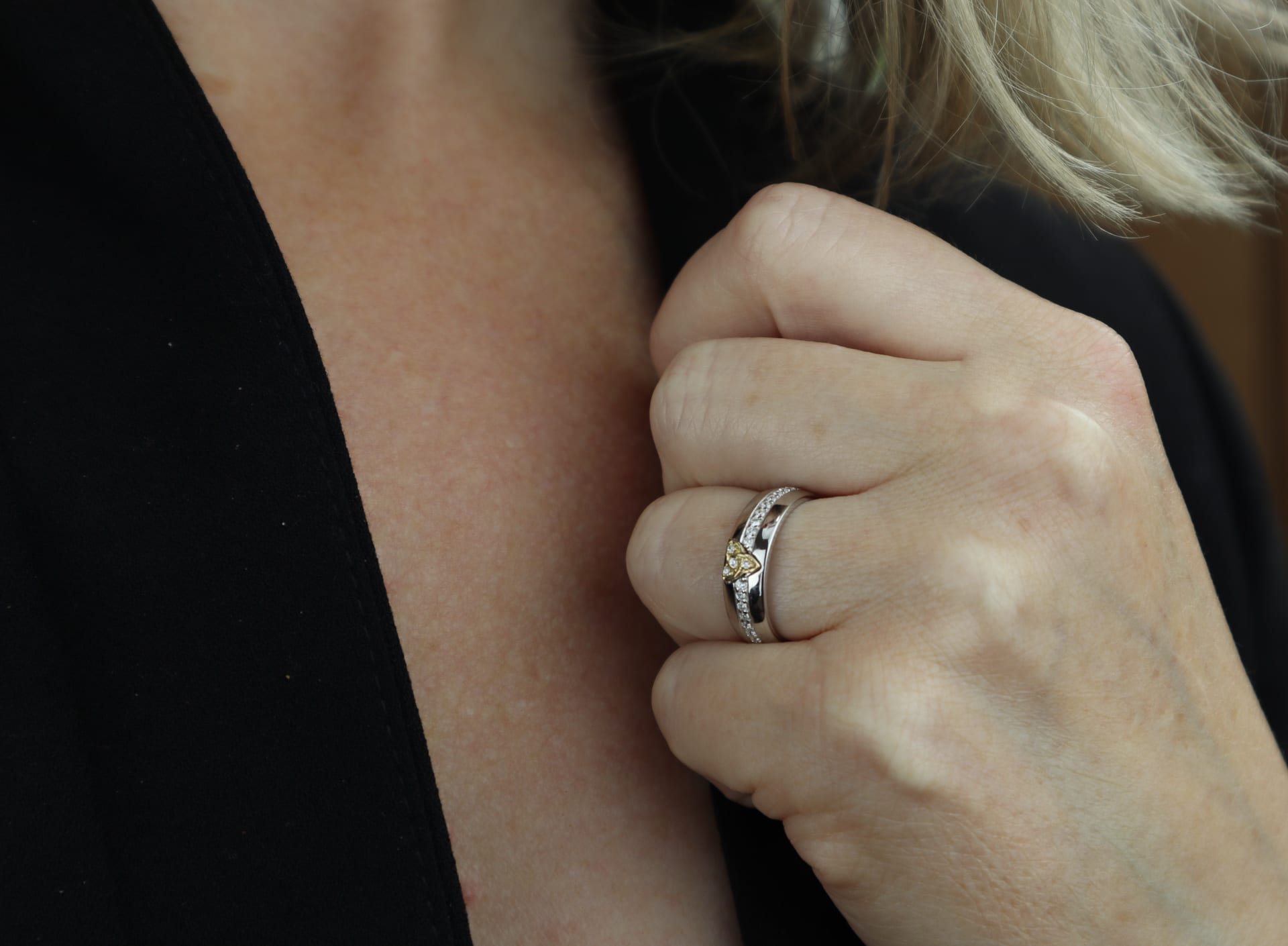 Engraving – Once you have chosen the piece with the right design and symbol, you can get it engraved with certain phrases and add a personalised touch to make it unique and exclusive. We, at Boru offer engraving on as many of our products as possible when ordered via our website. Not only that but we also offer a number of font options to choose from!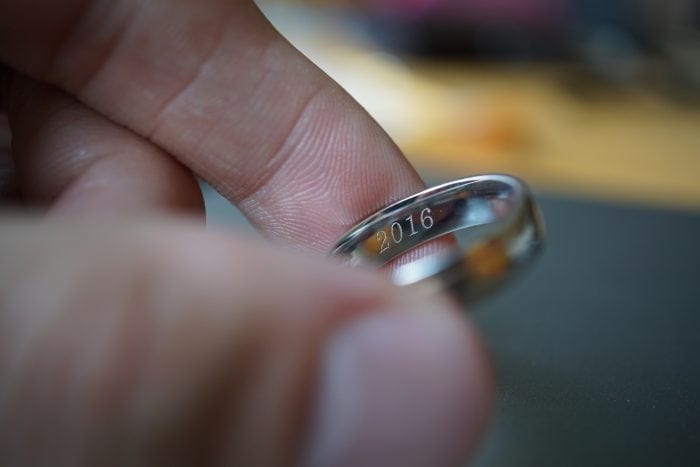 Care & Maintenance – To ensure that rings maintain the same shine and lustre as the day you bought it, polish silver or gold with a jewelry polishing cloth for best results. Follow basic guidelines listed in our jewelry care to retain its sparkle in the long run.
If you are waiting to profess your feelings for the love of your life or waiting for your wedding day, this guide will help you find the best ring for the next big step in your life.