Differences Between the Ogham and the Claddagh Rings
07 March 2022 ·
8
min read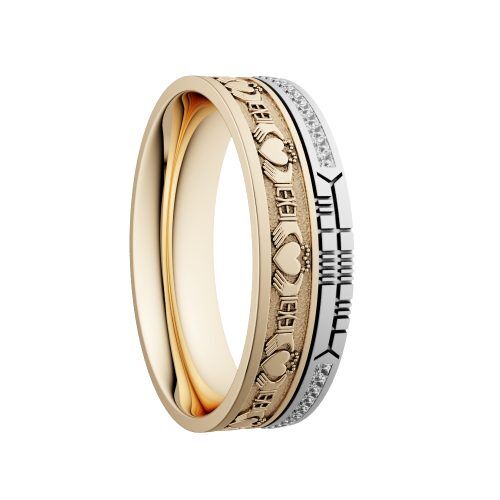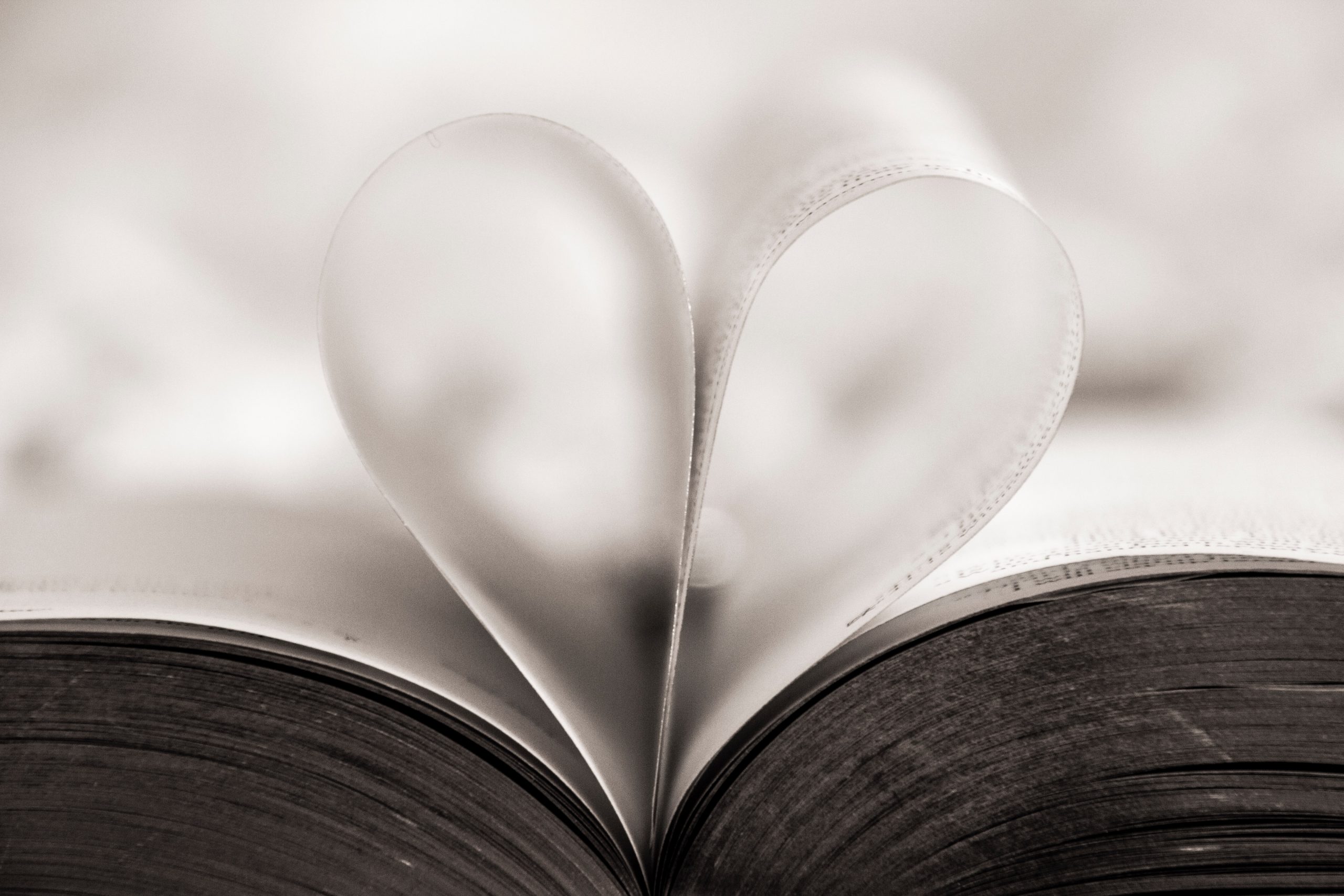 Photo by Hush Naidoo Jade Photography on Unsplash
We all go through quite a journey when looking to buy a piece of jewelry. We go store by store, check prices, scroll through images of these beautiful things just so that we can find the one that feels "right". The decision can be even more difficult to make when we want to celebrate our love for one another by buying a ring, and rightfully so. After all, the gifted ring should carry our message and our love, but it has to be suitable for the wearer at the same time. 
Whether you're buying for yourself or a loved one, consider Celtic and Irish rings. These iconic traditional Irish jewelry pieces are unparalleled choices for anyone who values rarity, elegance, history, and uniqueness. The intricate details, universally established symbols and genuine meaning of those rings are the perfect manifesto of love and affection. 
Irish rings come in various designs and models, the most popular ones being Ogham and Claddagh rings. To choose the perfect one, you need to first understand their particularities, messages they carry and differences between them. 
Today, these beautiful Celtic rings are available in yellow gold, white gold, and sterling silver. Moreover, they can be embellished with diamonds and precious birthstones to make the piece as unique as the wearer. 
In this article, explore with us some of the unique features of these exquisite jewelry pieces that makes them different from each other. And find out which one is the best for you. 
Irish Rings
Ogham and Claddagh rings symbolize legacy and tradition, each with their unique significance. These romantic Irish rings are protected and treasured by parents and passed through generations. Inspiring, curved designs and scripts represent friendship, love, and affection. Throughout history, there's been a lot of debate about the meaning of these designs, but today, all of us can create our own meaning.
Although Claddagh and Ogham are born from beautiful Ireland and its people, they transcend nationality and culture. Each one's true meaning bends and molds itself with the wearer.
The most important factors that differentiate between Claddagh and Ogham rings are their symbolism, their design traits, and the occasions you can use them for. 
Claddagh Rings
The Claddagh ring is one of the most distinct pieces among the wide variety of beautiful Celtic jewelry. As many know, the Claddagh ring is deeply rooted in Irish culture and Irish traditions, but it can be just as meaningful for people in every part of the world. 
Historically, lovers used to give Claddagh rings at weddings, but these days, they can use them to profess their love on all sorts of occasions. When getting married, brides would usually receive the rings that belonged to their mothers. Even today, Claddagh rings are considered family heirlooms. 
Symbolism
The features of Claddagh rings can be distinguished from Ogham rings by:
the hands that signify friendship 

the heart that speaks of love

the crown that represents loyalty
Therefore, you will be able to easily recognize a Claddagh: a band finished with two gently cupped hands holding a heart, with an intricate crown resting above the heart. 
You can enjoy the beauty of Claddagh rings regardless of being single or married. Despite their history of being only used in weddings, people today can use it for different occasions. The ring may be a sign of your deep love for someone else, or it may be a message of unwavering loyalty. Perhaps the ring stands for your deep friendship with someone else. We've grown to cherish the power of symbols as a means of conveying feelings when words are inadequate to explain our emotions. As a result, a thoughtfully gifted Claddagh ring communicates a statement in a language that everyone understands.
But even today, Claddagh rings are more popular as a wedding or engagement ring. White gold, platinum, and regular gold are the most popular metal choices for wedding rings.
Design & Use
While the symbol of hands holding a crown and heart is present in all rings, each ring will, of course, be different in design. For engagement rings, there's usually a precious diamond in the center of the heart, which is generally used together with an engagement band. The Claddagh & Lovers wedding ring is one of the most popular choices among lovers, and it can come in different metals and colors.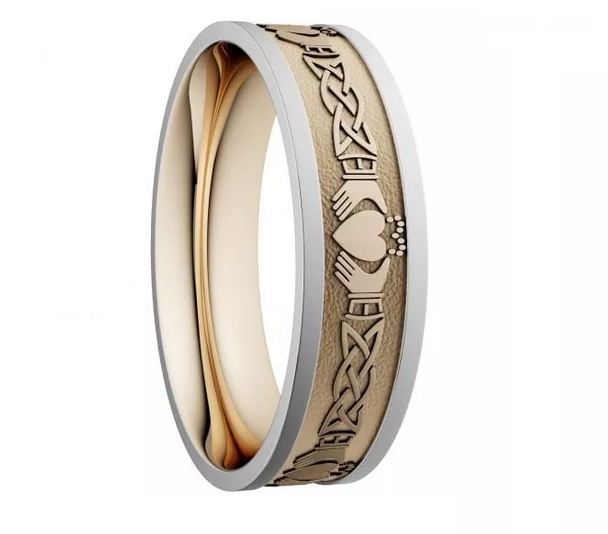 Gold Claddagh Ring with Lovers Knot 
Of course, you can add the diamond in the heart. You can also use other stones to make the ring unique to the occasion you're celebrating.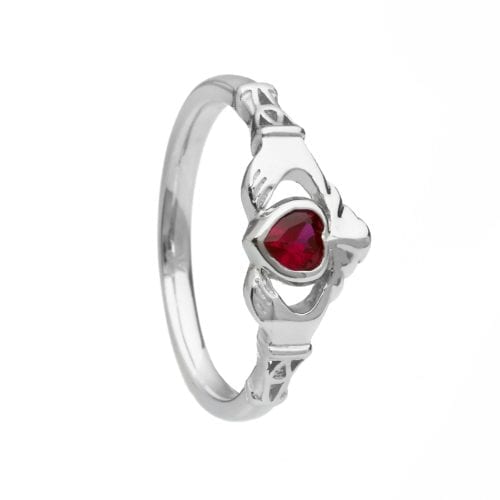 Ruby Stone in Claddagh Ring Heart 
Nowadays, people wear Claddagh rings any way they choose, but if you're a fan of tradition, you can follow these rules:
If you're married: You should wear the ring on your left ring finger, and the bottom of the heart should be directed at you. It's a sign that your love (the heart) is reserved for someone special.

If you're engaged: You should wear the ring on your left ring finger, but the bottom of the heart should be directed outwards. Also, it's essential that the crown is the closest symbol to the wrist. It's a sign that your loyalty (the crown) is reserved for someone special.

If you're in a relationship: You can have the heart directed toward you to show your love for your significant other, but you need to wear it on the right finger, not the left.  

If you're single: You will again wear the ring on your left finger, but the heart should be directed outward. It's a sign that you are ready for a new love story.
But as said before, you don't have to follow these rules. You may be married and like to wear the ring on your right ring finger. You may be engaged and want to wear the ring on the left index finger. It all depends on you and your taste. 
In addition to the ladies collection, there is a selection of popular Claddagh rings for gentlemen. One of the more popular choices is the all yellow Claddagh band style wedding ring for men.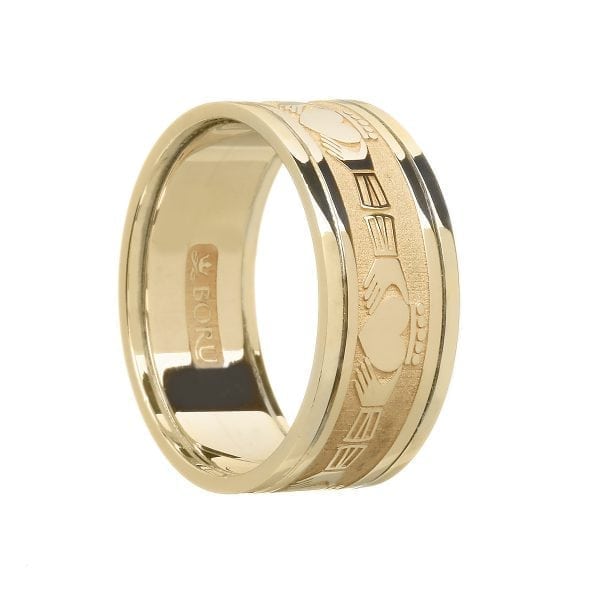 Claddagh band style wedding ring for Men in All Yellow Gold.
➽ Discover all the amazing models by browsing the entire Claddagh Rings Collection by Boru. 
Ogham Rings
Ogham is the ancient Celtic Alphabet that dates back to the 6th century CE. There are many different theories about the origins of Ogham, but it has surely impacted the culture and the traditions of all Irish people. The original number of Ogham letters was 20, divided into four equal groups.
The ancient alphabet is a series of lines carved into stone, a tree, or even written on parchment. The famous Ogham stones can be found in many regions of Ireland today, and there are more than 150 types of ogham stones in those areas alone.
As the name suggests, Ogham rings feature beautiful, intricate scripts in these alphabets that symbolize any meaning. Unlike Claddagh rings that feature the symbol of hands, heart, and crown, Ogham rings are unique because of their ancient scripts. 
Symbolism
If you look at any Ogham wedding ring, you will notice a unique script that creates a particular pattern around the ring. As lateral and central lines cut across each other, a letter is formed. 
Unlike the Claddagh rings that relied on three signs to convey a meaning, Ogham rings can be much more distinct and personalized. In other words, you are the one creating the symbol. You can have a special message written on the ring that's unique to you and your significant other.
You should start from the bottom of the central line on the left and go upwards to read the message. If the message is longer than usual, you should continue on the top and move downwards on the right side. As we said before, there are only 20 letters in the Ogham alphabet, which means there are no substitutes for letters like Y, V, and J.  However, there are certain symbols which have been agreed by scholars which can be substituted for letters Y, V and J. Our Ogham Alphabet has been checked and approved by Professors of Irish History and Language in Trinity College Dublin.
Since each letter is related to a specific tree name the ancient Irish held in high respect, Ogham is also known as the Tree Alphabet. This creates an eternal link with an ancient society where the natural world was at the core of their lives. Ogham is an Irish jewelry piece brimming with spiritual love for nature and elements of life, almost like poetry. 
Design & Use
When it comes to choosing the message, most people have famous traditional love quotes carved into the ring. They also have the ring customized so that it highlights a particular name or word. That's why Ogham is a popular and distinct choice for wedding rings.
One of the more popular choices is the Ogham Mo Anam Cara Wedding Ring with trinity knots on either end. Mo Anam Cara means "soul mate" in the old Celtic language, and the trinity knots symbolize honor, promise, and love.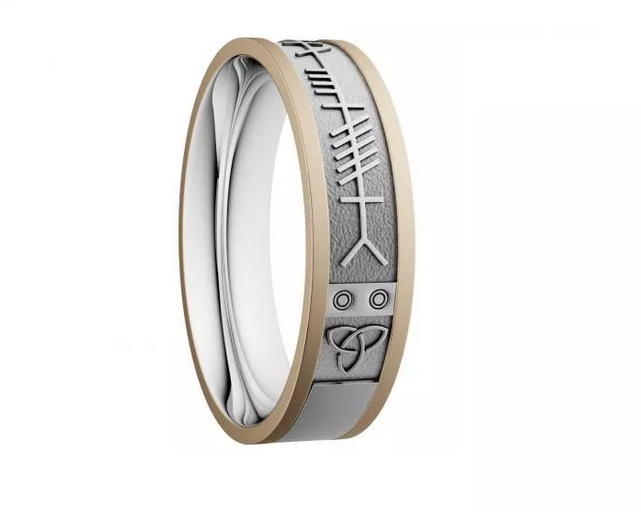 Ogham Mo Anam Cara Wedding Ring – Yellow Rails
The beauty of Ogham rings is that you can even combine them with Claddagh rings into one wedding ring. This is a perfect choice for those who love the symbol of Claddagh rings and want to make it unique with a special inscription. For instance, the comfort fit diamond Claddagh style Ogham wedding ring is a stunner that catches everyone's eyes.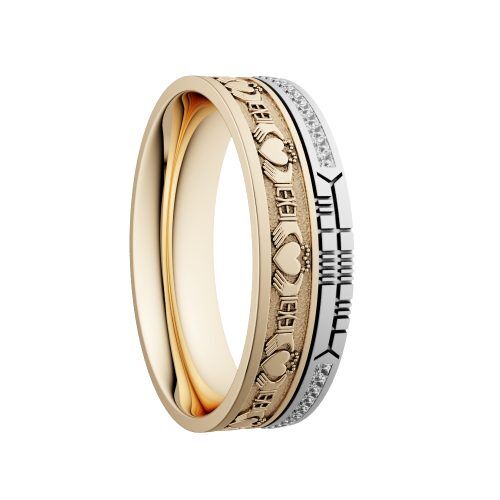 Comfort Fit Diamond Claddagh Style Ogham Wedding Ring
Or you might fall in love with an Ogham Sonas Ring. "Sonas" means "happiness" in Irish, and this simple and powerful word can be worn around your finger daily as a sweet memory of a happy time. Or a mantra to remind you to find happiness in every moment.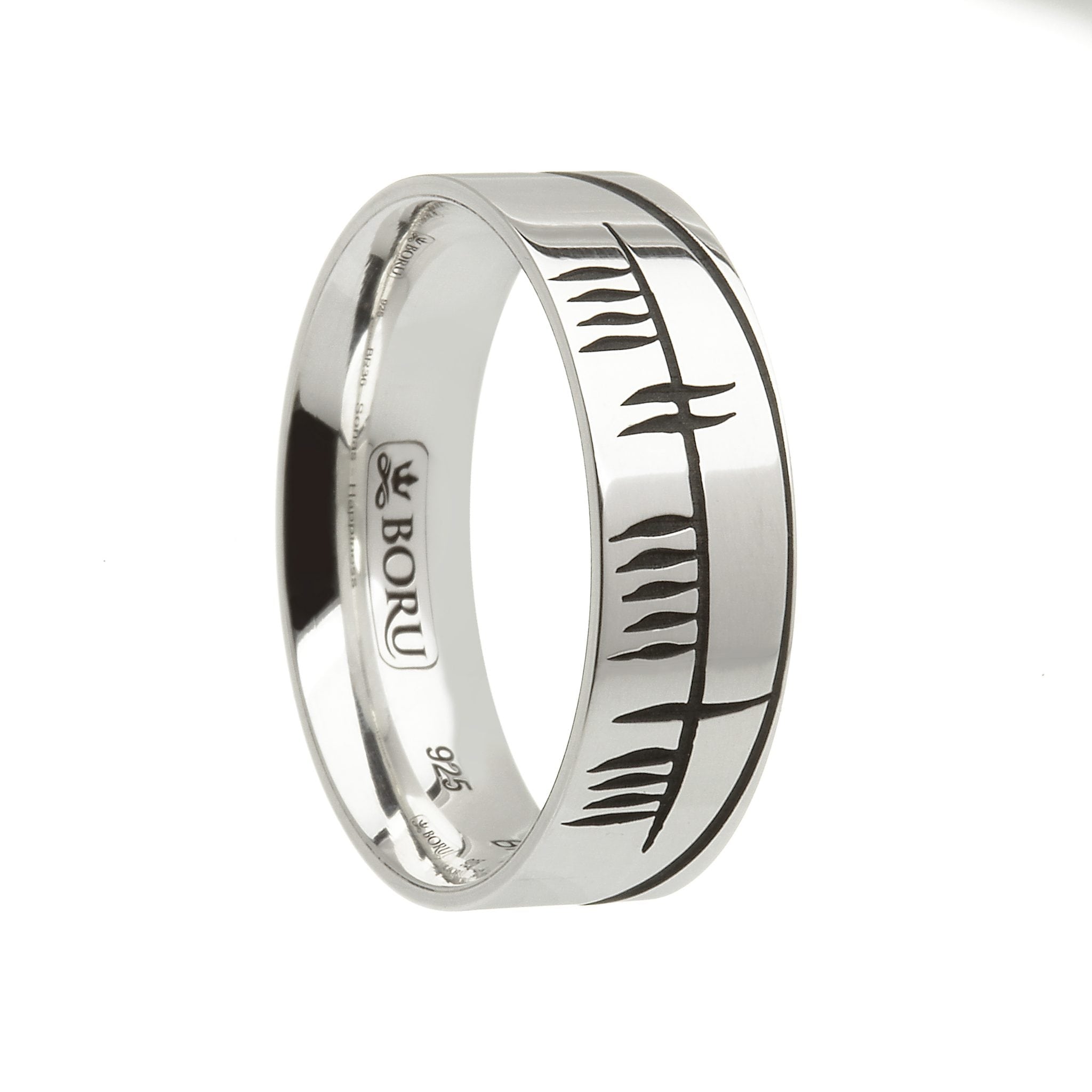 Ogham Sonus Ring in Silver – Wide
Yes, Ogham rings are not just for weddings and engagements. The freedom in design allows you to give them as gifts to friends or even use them as promise rings. What is a promise ring? It's a symbol of commitment between you and your significant other. That's why some people call it a commitment ring as well.  
Promise or commitment rings are the perfect way for two lovers to express their commitment. The design of these rings is usually simpler than wedding rings. They can be either plain or feature unique stones like diamonds or gemstones.
Also, because they are really affordable, many young couples use them as a pre-engagement or even an engagement ring that shows their relationship has gone one step further. Later on, they can use Ogham wedding rings for when they get married. 
➽ Do you want a ring charged with history and meaning, but unique to you? Choose your favorite item of personalized Irish Jewelry from the Ogham Ring Collection by Boru. 
Ogham jewelry and the Claddagh ring may be different in some respects, but deep down, they're both remnants of a culture as old as history itself. Both these jewelry pieces share the beauty in representing spiritual concepts once held valuable by our ancestors. Concepts that may be ancient but are equally important and beautiful to us in today's world.
Since its first inception, the Claddagh ring has become synonymous with countless love stories its owners created. And Ogham has kept secrets and personal messages of millions of people within its aged lines.
Thus, it may feel a bit overwhelming to choose the perfect ring out of such variety, but rest assured you cannot go wrong with any of these Celtic rings. 
You can create something special for you and your significant other, something that will hopefully be passed down through generations and become your family heirloom. So, if you are looking for the perfect combination of elegance, luxury, and affordability, Boru Jewelry has all you need. We at Boru create a wide range of Claddagh and Ogham rings using affordable precious metals to provide beauty and meaning at the best price.
Sources:
https://www.serendipitydiamonds.com/blog/ogham-wedding-rings-explained/
https://www.nbccomedyplayground.com/what-is-a-ogham-ring/
https://www.diamondere.com/blog/everything-need-know-claddagh-rings/
https://tracygilbertdesigns.com/how-to-wear-the-claddagh-ring-2/
https://mountzjewelers.com/blogs/mountz-jewelers/everything-you-need-to-know-about-the-claddagh-ring